Starshades derived their name from their star-shaped structure but function the same as any marquee which is a tall roof-like structure with open sides that provides shelter from sun or rain. They are typically used as temporary structures at events such as wedding receptions or for outdoor entertainment.
They can also be used as shelter with chairs for people to sit under, the bar area can be held there and ticket systems for outdoor events. It can even have a small stage fit underneath it!
Starshades are the perfect branded marquee as they stand-out from a crowd and are very convenient.
Due to the size and shape, people will most definitely see them and are bound to take note or even go to them out of interest – it is great to grab attention.
Consisting of a centre pole and waterproof canvas, Starshades take approximately 5 minutes to set up with the help of two people and dismantles even quicker, making it ideal for any event along with having a large printable, and thus brandable, surface area.
Marquees were originally manufactured from cotton canvas covers but with advances in modern materials a wide variety of options are available from waterproof to UV Protection.  Canvas, however, is more breathable and allows for lower temperatures on hot days while remaining watertight during rainy days.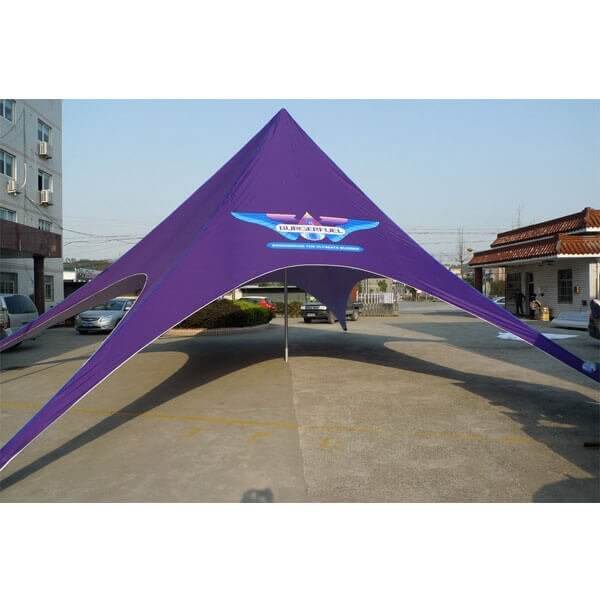 Advantages of our Starshade Marquees include the following:
Perfect for all types of branded events
branded starshade marquee
Great way to create the most shade cover
Can be printed digitally or supplied in plain colours
Include aluminium center pole
If you are planning an outdoor branded event and are in need of something that will provide a lot of shade for a lot of people, the Starshade Branded Marquee designs here at Budget Banners is exactly what you need.