We've all seen them, we've all probably been underneath one and some of us might even own one, but how many of us can raise our hands when knowing about the history of gazebos Johannesburg might not be aware of?
If you are one of those who cannot, let us inform you on some history of the gazebo!
History of Gazebos Johannesburg must know:
Egyptian times – the Egyptians used to use gazebos in their gardens in order for the vines to crawl up the structure and they also believed that the gazebo and their garden would join them on their journey to heaven once they pass away. Besides this, of course the royals were the ones to own them first!
Persians – they used to make use of gazebos to conduct business
Greeks – instead of using them in their personal environment, they used to put them up in public areas such as around temples
The Romans – gazebos were more popular for personal use as a way to escape. They'd go to their gazebo if they felt the need to rest and relax.
Middle Ages – during this time they were extremely popular in Europe
18th Century – this is the time in history where gazebos hit the united States full on and started growing in popularity
Modern times – nowadays gazebos can come in any shapes and sizes, used for various events whether it be personal or public.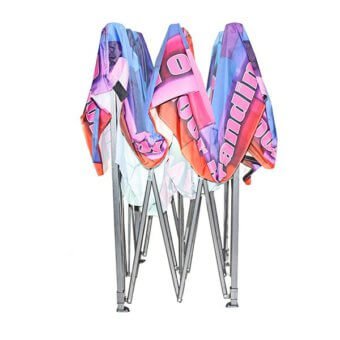 Now that we know a bit more about them and how long they have actually been around, here are a few examples of where you could actually put these to use:
In your garden or backyard for shade when you have one of your big family get-togethers
Turn it into a playhouse for the kids – entertainment and protection from the sun in one
Use it to promote your brand at sporting events
Put it above your hot tub to not have to apply sunscreen all the time
Take it along with you to the beach for extra protection and to fit the whole family under
Use it at your wedding as cover for guests
If your car is small enough, you can park it underneath
If you sell things at a market, use this to put your stall underneath
Now that we have covered the history on gazebos Johannesburg might not be aware of – If you think you need one of these handy gazebos in your lifestyle, come to Budget Banners today to get started!
If this is not exactly what you had in mind, be sure to have a look at our Starshade Marquee, Bunting, Parasol Umbrellas and Golf Umbrellas.
For further more information, please Contact Us today and we will be in touch with you shortly!